Thanks so much for your interest in a custom song! This is one of our favorite ways to connect musically with people.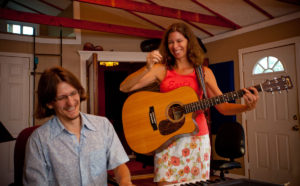 If you decide to have us write a custom song for you or for someone in your life, we will schedule a phone chat to get the beginning ideas. Then we will send you a follow-up email with several questions about the topic in more detail.
Nothing is off limits:  it could be a song for a wedding, anniversary or birth of a child or grandchild, a beautiful moment to celebrate, a past trauma or regret, a celebration of someone or something meaningful in your life, a song commemorating someone, it's up to you!  
Because these projects take us several days to create, there is a significant fee involved. You will be getting all our love and musical craftsmanship focused on your topic, and you will have a one-of-a-kind recording to keep and share.
If interested, please drop us a line at info@marewakefield.com
CUSTOM SONG EXAMPLES
Mare and Nomad worked with me on a special song as a surprise gift for my significant other. Working with these two professionals made it easy and fun! At first I wasn't exactly sure what I wanted, but they helped me right along and created a Masterpiece! My man says it's the best gift he's ever received and our friends ask to hear it again and again!  

~K. in Nevada
We love the song. The new baby cracked a big smile and opened her eyes on the first listen. And the rainbow theme has personal resonance for us! Thank you, Mare. Thank you, Nomad.

~ C. in New York