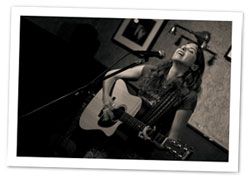 "Take Me Home is a rootsy, singer/songwriter collection from one of the best we've heard. Four Stars!"
"At time soft and soulful, at others riotous and rowdy ... Wakefield is a unique and wholly self-evolved performer with that special ingredient"
"Mare Wakefield has concocted a mellow, likable country-folk sound on Take Me Home. The opener, "I'll Drive," lays down a backdrop of piano, acoustic guitar and drums that works well with Wakefield's warm vocals. A sad, country-flavored dobro sets the mood for "Pack Up Your Stuff," an emotional downer with a little vocal help from Amelia White. Both songs have strong melodies and, especially in the latter case, unwind at their own pace. Given this pacing combined with low-key arrangements and a simple production (very little reverb, etc.) these songs are imbued with a back-porch quality. Another intriguing quality of Take Me Home is the addition of Nomad Ovunc's piano in the midst of the fiddles and dobros. It's never intrusive as in bad country-pop, but is woven into the texture of "Texas" and "Cold River," adding a nice, unexpected touch. Wakefield is helped along this path considerably by bassist Jim Thacker, drummer Justin Amaral, fiddler Brian Arrowood, dobroist Kim Gardner and several others. These players, whatever their individual histories may be, fall into a comfortable groove here, offering an attractive, spare soundscape for Wakefield's vocals. Things get a bit funkier on "Love vs. the USA," a rockin' bit of gospel complete with a backing choir. Non-pretentious with a mellow, country-folk sound, Wakefield's Take Me Home offers a solid group of songs on its own terms. 3 and 1/2 stars."
"Cozy brilliance ... Could she be the merger of Maria McKee, Natalie Merchant, Shawn Colvin and Dolly Parton? Wakefield and her guitar fill a musician's space as if an inherent extension of her soul. There is volume and symmetry that is as untainted as it is simple. This most elegant component is indeed a rare find and decrees strength and depth. Feel this music. It absorbs like thirsty skin."
"Take Me Home is Wakefield's fourth album, and her first in four years. She relies on both acoustic and electric arrangements, and even strips things down to one voice, one guitar on "Lullaby." The piano also adds an extra element to many tracks. Take Me Home sounds great, and Wakefield's an expressive singer. "
"The songs, the voice, the band is just plain good! A voice a bit reminiscent of early k.d. lang, poignant story-telling, diverse scenarios. Wakefield's humor and technique shine from a powerful voice that reaches both ends of the scale."
"Why you aren't a national figure already can only be chalked up to the music business. Your voice, the sublime intelligence of your lyrics and production are first rate."
"I enjoyed your album [Factory]. I liked your singing, and the songwriting is unique. I loved the one about the sewing machine... Well done in all"
"More than your typical fly-by-night coffeehouse folk artist [Wakefield is] musically sophisticated, weaving elements of jazz and bluegrass into her compositions. Her lyrics read like stream-of-consciousness short stories. Don't pass up the opportunity to see her perform."
"Wakefield's songs are 'old school' in the best possible way: they have an honesty and directness that nowadays are hard to find. With her lyrics she's able to make you think and make you smile ... she even managed to reincarnate the Ghost of John Denver -- what more can you ask for?"
"A wonderful singer-songwriter ... I'm glad the rest of the country can be introduced to her talent."
"Well-written songs, beautifully sung ... top notch instrumental accompaniment."
"An arresting collection of folk pop... So immediately accessible it risks getting overplayed."
"Your new recording is so excellent it was moved up to heavy on our playlist."
"Wakefield is Oregon cafes, small town Texas and twangy Nashville rolled into one. Her guitar and vocals ache in all the right places ... She resembles an early Billy Bragg, you'll want to be in the front fow at her next concert."
"Wakefield is Oregon cafes, small town Texas and twangy Nashville rolled into one. Her guitar and vocals"Reminiscent of Dar Williams, conjuring up the ghost of Johnny Cash. Her voice is sweet without being saccharine, familiar without sounding like anyone else, and extremely pleasing to the ear ... The fiddle drew me in, the story line kept me from leaving."
"Unbridled tenacity pours out of her. Through her songs she evokes a passion for music and life on the road."
"Rootsy, country-tinged folk ... [Take Me Home] showcases Wakefield's talents beautifully."
"Sweet voice, sensitive lyrics ... with a hint of twang."
"Introspective and intelligent mix of contemporary folk and Americana."
"Refreshing and versatile."
"Wakefield wins over audiences with her Gillian Welch-like voice and intelligent lyrics."
"A beautiful merging of the simplicity of the best folk and country music with all of the complexities of human relationships ... The combination of desire and resignation that comes through on the title cut is particularly moving. I'm actually looking forward to my commute to work tomorrow, so I can listen again!"
"Folky enough to rock a coffee shop near you, rural enough for her to perform the songs at a state fair."
"Introspective yet very much alive...there's a lovely sense of the upbeat, even in Wakefield's most brutally personal moments."
"Mare is sultry, cozy and funny; her voice slips somewhere between sweet maple sugar and cognac. Mare's songs are personal but not agonizing; intimate, but not ponderous. She seems to hold a laugh behind even her more serious lyrics--a laugh and another lighter step."
>"Wakefield has a clear, energetic and confident voice that bounces off the band's thick walls quite well and even holds humor."
"Sweet and clever folk-pop."
"Good--I liked Wakefield's mix of humor and angst."
"You are sooooo f*cking talented, beautiful, funny. Why aren't you on tv?"
"Tender songs and a clear voice."
"Expressive vocals & poetic writing."
"Back by popular demand."
"Wakefield's voice can snake through a venue like an invisible conga line, grabbing listeners and pulling them along with a well-placed rhyme or pointed insight."
"Stirring vocals."
"Wakefield...was the surprise hit of the show. She...delivered a strong set...and stuck around to sing harmony with just about every performer on the bill. She has a beautiful voice, endearing stage presence and writes...with humor."
"Her original songs blend humor and insight about everyday events...with tenderness and strength. Wakefield's laid-back performance style instantly put the audience at ease, making her shows feel like a circle of friends rather than a concert."
"[Wakefield's] folk and pop songs are steeped in the everyday with humor and poignant insight."
"Mare's stronger playing [on Factory] is matched by her maturing voice. The notes come out easy...she's enjoying herself."
"Each song draws the listener in to a sort of sacred communion with the band...Wakefield opens her world to the listener, as each songs evolves into a charming story."